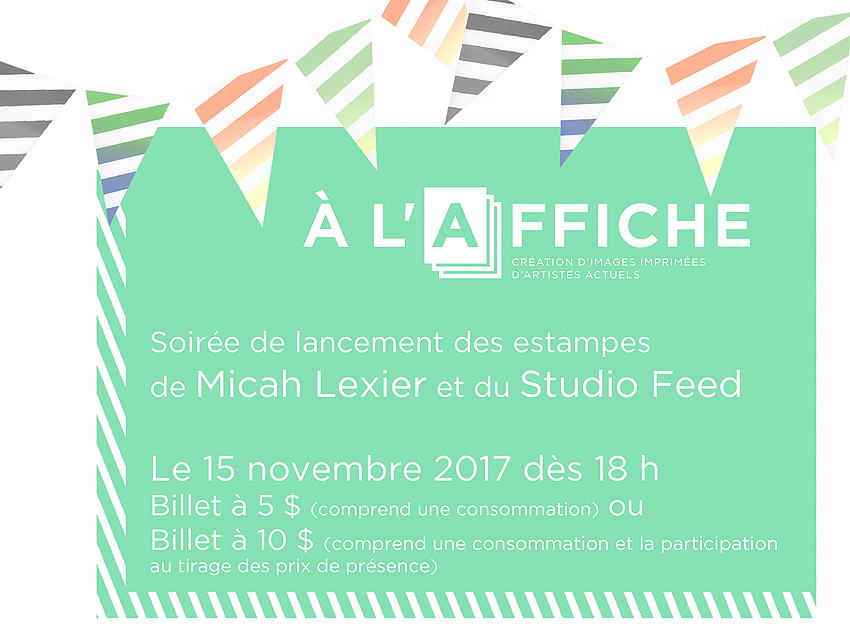 Arprim is glad to invite you to the launch evening of the works created by Micah Lexier and Studio Feed !

On Wednesday, November 15, starting at 6 p.m, join the artists and the production team for a party celebrating the new realases of À l'affiche.
Program of the night :
* Artist's presentations by Micah Lexier and Anouk Pennel, from Studio Feed (at 6:30 p.m)
* Silkscreen printing demonstration by UQAM's student-printers team (Alexandre Ménard, Dominique Desbiens, Catherine Landry and Richelli Fransozo), on a postcard designed by Jacinthe Loranger !
* Prizes draw, including cultural and leisure products and the grand prize, one of Micah Lexier or Studio Feed's print created for À l'affiche.
* Music, bites & snacks and bar service, for a killer ambiance !

---
Get your ticket at Arprim (cash only) or with the Paypal* buttons on this page to be a part of this memorable night and support Arprim's activities. Your ticket gives you a free drinks and an entry in the prizes draw !
* Please allow a few days for your ticket to be sent by email. Tickets will be asked at the door, either printed or on a mobile device.